End of March 2013 - Sitting in Bahia de Chamela by the fishing village of Perula in Mexico
Pg 110 of the Pacific Mexico Guide book
It's time to move on. The weather window has been moved up so we are leaving Bahia de Chamela Tuesday afternoon at 2 PM in order to round Cabo Corrientes (Cape of Currents) at about 2 AM. This cape is compared to Point Conception and can be very difficult if the weather is not right. This passage will be an over nighter and take about 20 hours. With no auto pilot it is a stretch. We originally were hoping to stay here another week or so but there is a south swell here and this anchorage does not protect from a south swell. The dinghy landings can be a crap shoot and the rolling swells can make it uncomfortable. We put out a flopper stopper which helps a lot. If we stayed longer, we would also probably put out a stern anchor also. The south swells are predicted to be here for a while.
Now that we are using the drum on the windless to pull up the dinghy to store on the fore deck for passages we can also use it to bring up the dinghy alongside the boat for overnight storage. Lift and lock as we do. That way the stern anchor rode is not a problem being in the way of bringing the dinghy up on the davits.
It is festive here as it is part of the Easter holidays. Usually two weeks of celebrations here. Today there was a band on the beach with a tuba and clarinet, trumpet, and drums - a quite festive sounding band!! Oomp pa pa,

oomp pa pa

- kind of like that. Sounds like a carnival.
We rowed around the anchorage a bit today saying hi to our neighbors. There were two boats close by.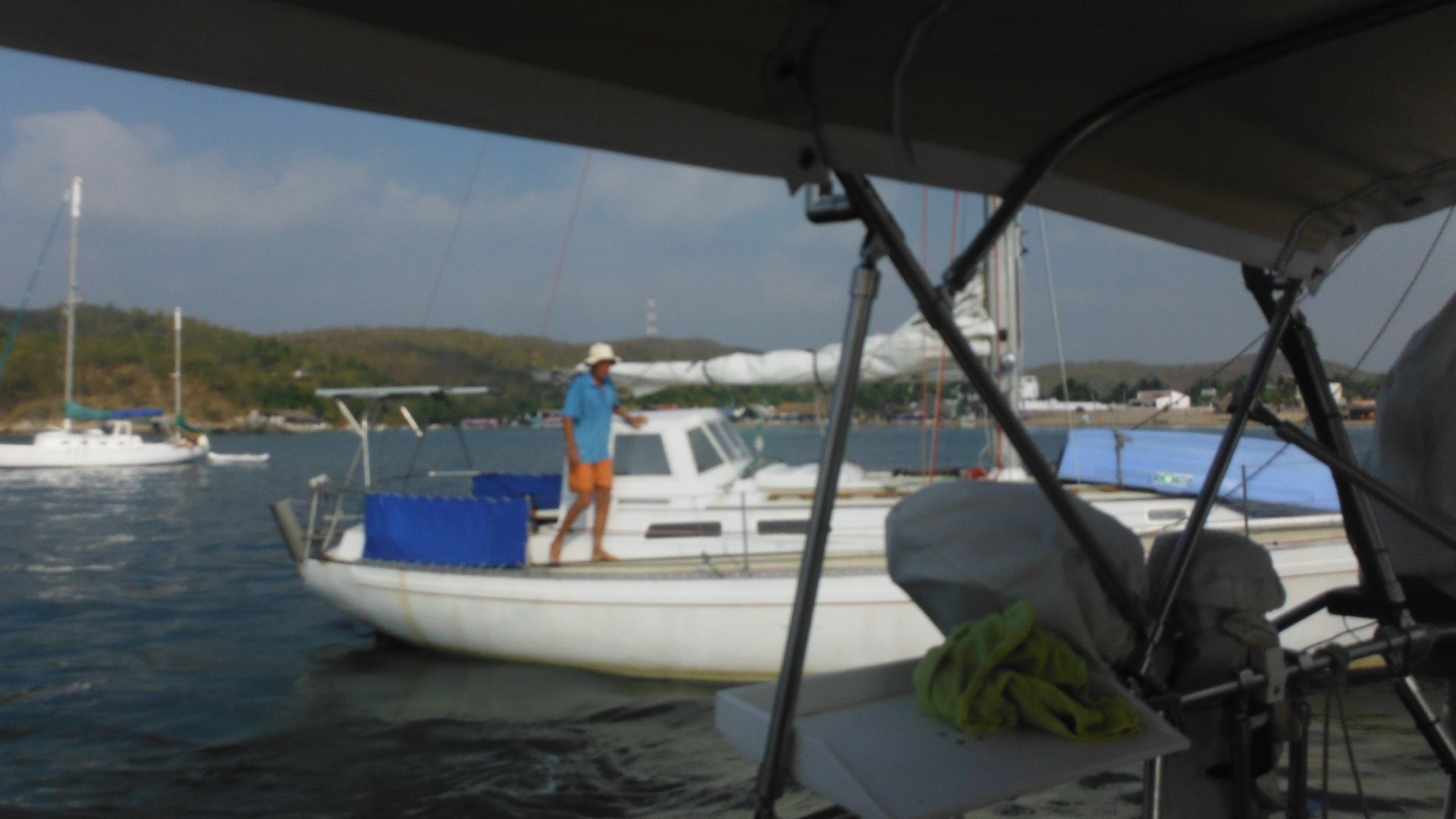 One, an Islander 36

with a single hander on it - Graham on S\V Avi.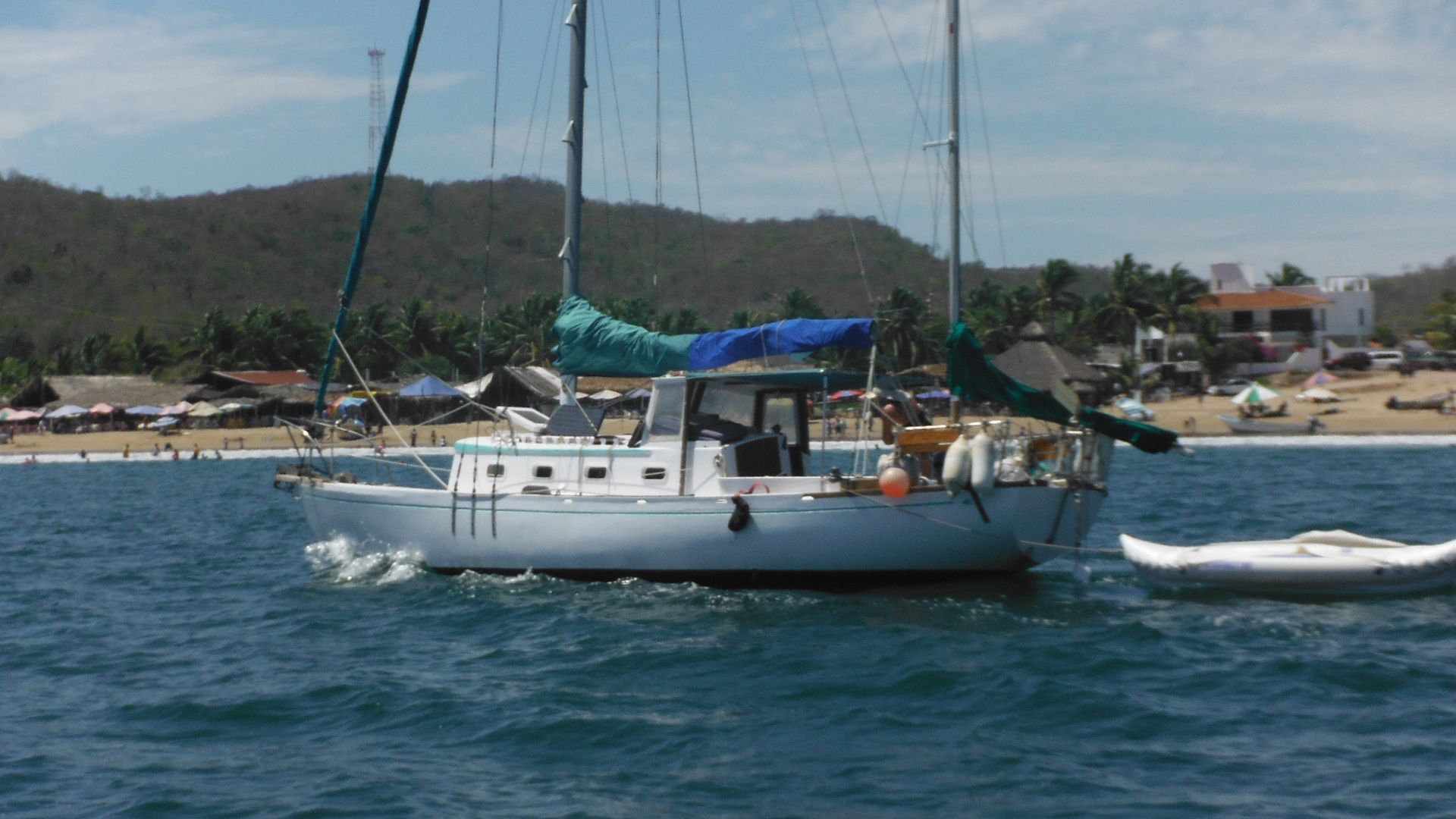 The other was a single hander Jack on S\V Waterdog.
Both very nice men with lots of stories!
We actually traded our Nicholas Cage DVD that we bought here
for about six old movies :) to Jack.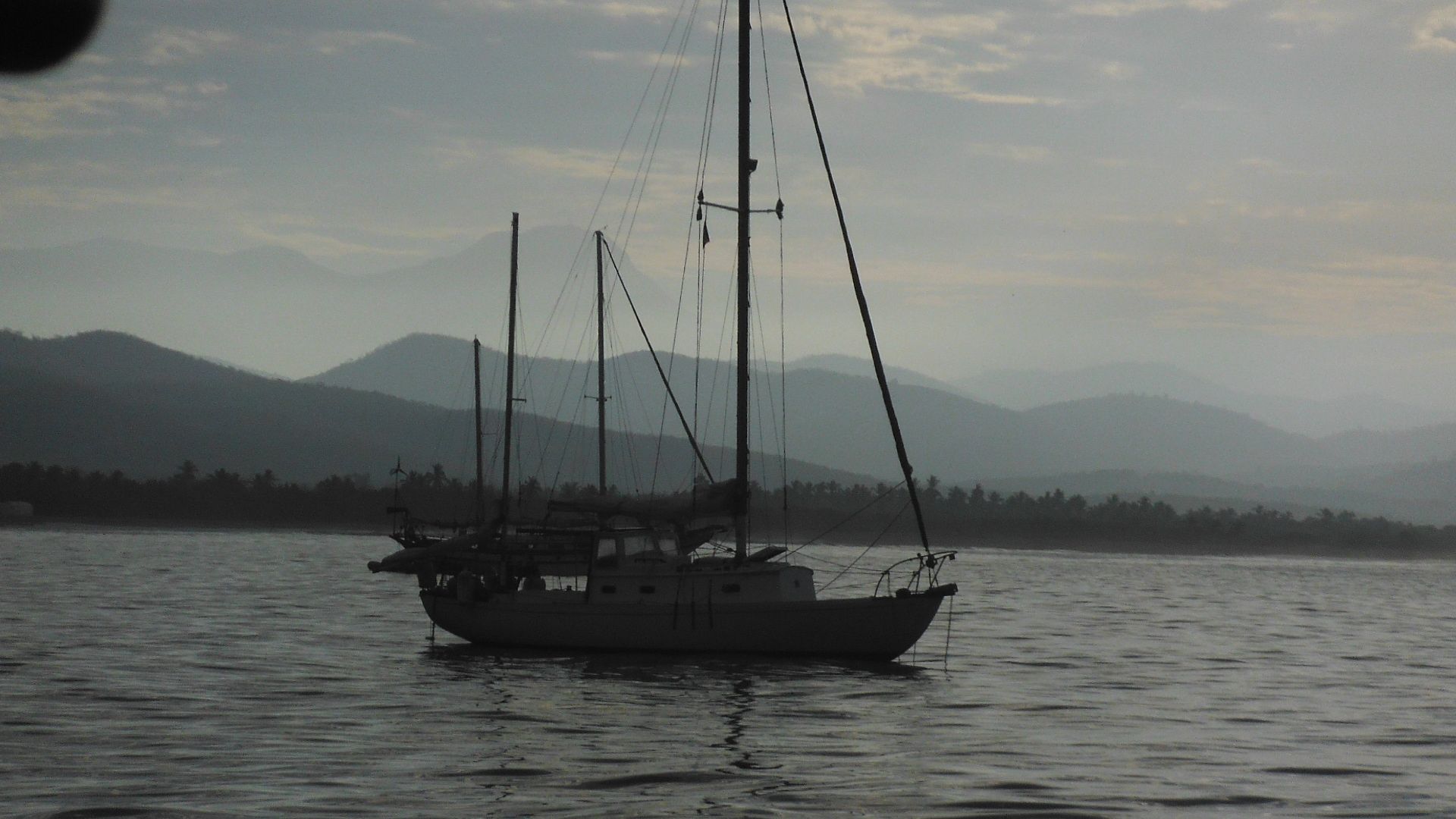 Look close to see the floats, also there were about a half dozen life guards.
Also in a previous post we told of rescuing a local boy on a swim toy here on the way down the Gold Coast. This time on this major holiday the locals have spread a string of swim bouys to mark off the beach. It is not a net and a good idea we think. The wind and tidal flow can sweep you away if lounging too long. The beach is great for swimming as it is a gradual slope and the water is nice and clean an worm.