Mid April 2013 - Sitting at anchor in Punta De Mita in Banderas Bay
On the morning Banderas Bay Cruisers VHF Net we announced under "Treasures of The Bilge" that we were looking for an inflatable paddle board.
Now there are not many inflatable paddle boards here in Mexico and so I was really not expecting much in the way of results.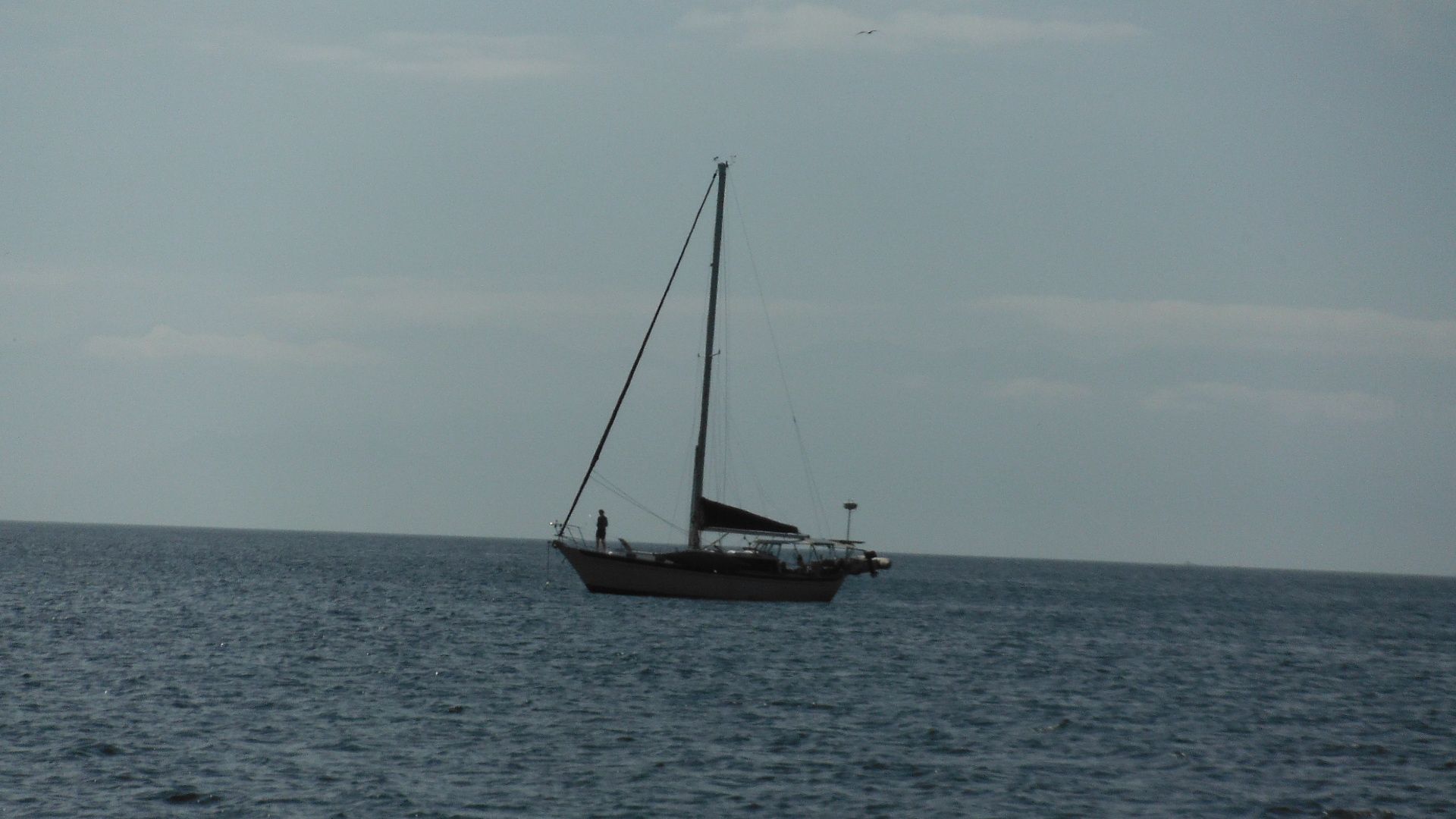 Dave on Free Spirit at anchor in Punta De Mita with us.
Just after the morning net Dave on Free Spirit called us on the VHF of course and said he had one for sale!
The next day we marched over there, we were both in the La Cruz Marina for a couple few days.
Dave showed it to us and we had the "think about it" and said so. It was used and had some sun damage but seemed in fair enough shape with no leaks. It also had a longer paddle than came with it that Dave bought and it fits me; also came with a pump etc all equipped and ready to go.
We researched the brand on the web and it got good reviews and so we went back a day or so later.
Dave had it mostly blown up and we or I took it for a paddle. It seemed to fit me well enough and we "thought about it some more". In Mexico, we say "If you see it and want it then buy it then as you may never see it again". This has happened to us a couple times so we usually adhere to this principle.
Dave was leaving for the sea as soon as his sail repair was done and so Debbie and I negotiated a fair amount of coconuts (the code word as you cannot buy or sell anything as a tourist in Mexico to another tourist) and we got it.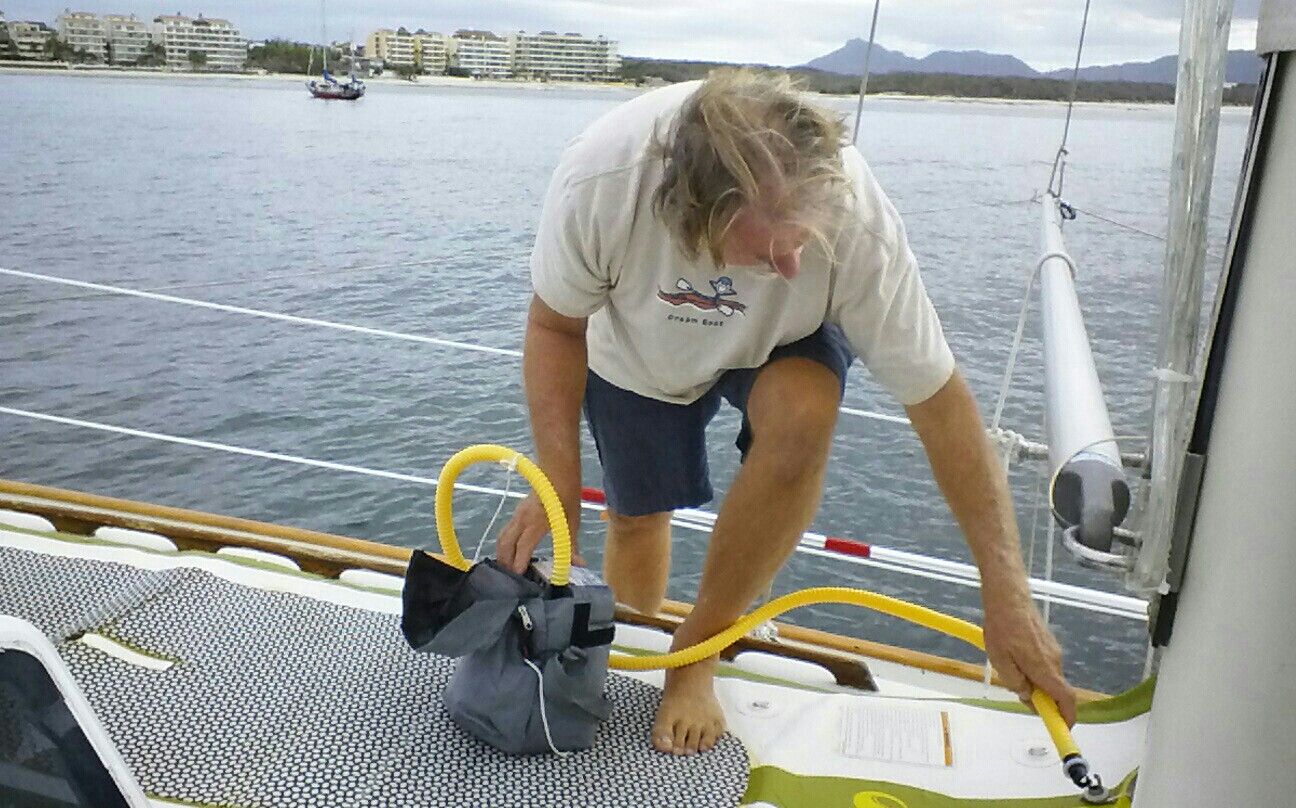 We used the electric pump to get it most of the way inflated.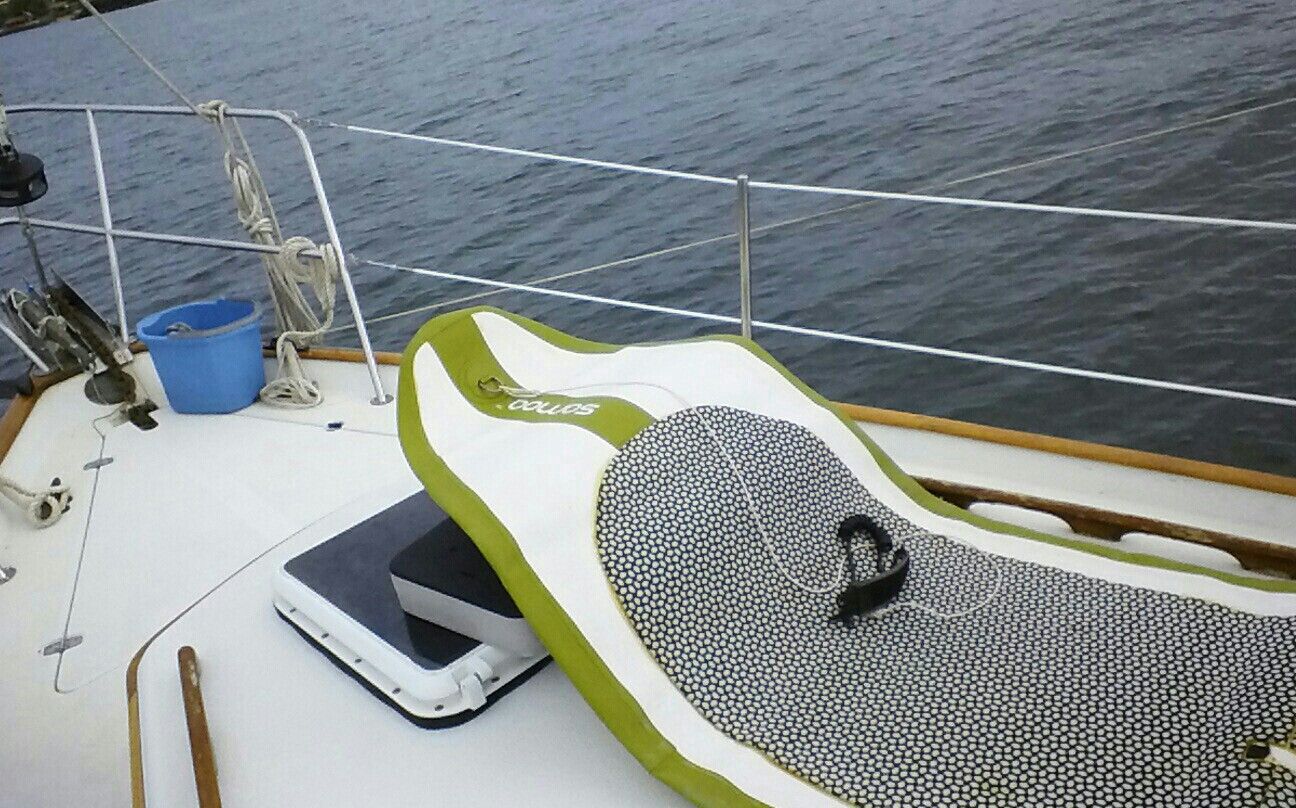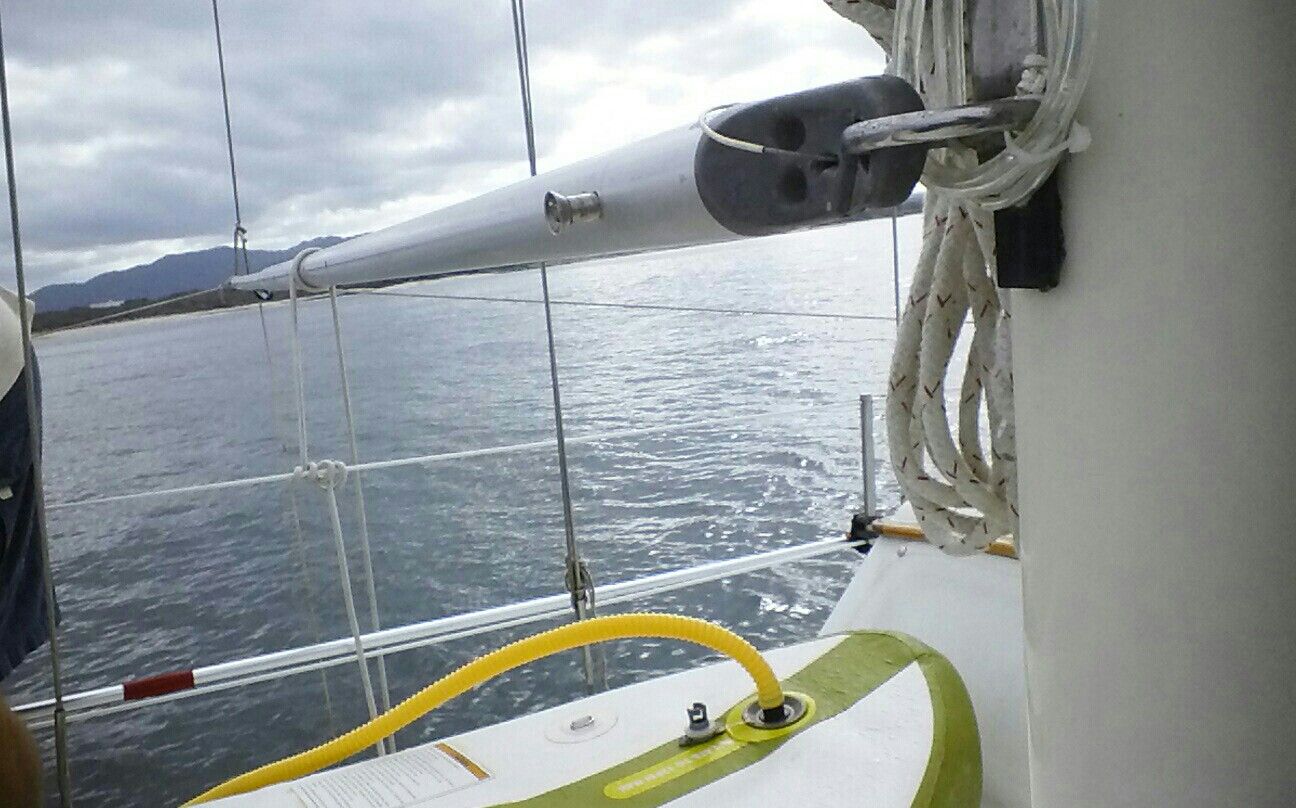 We took it to Punta De Mita and after a day at anchor blew it up.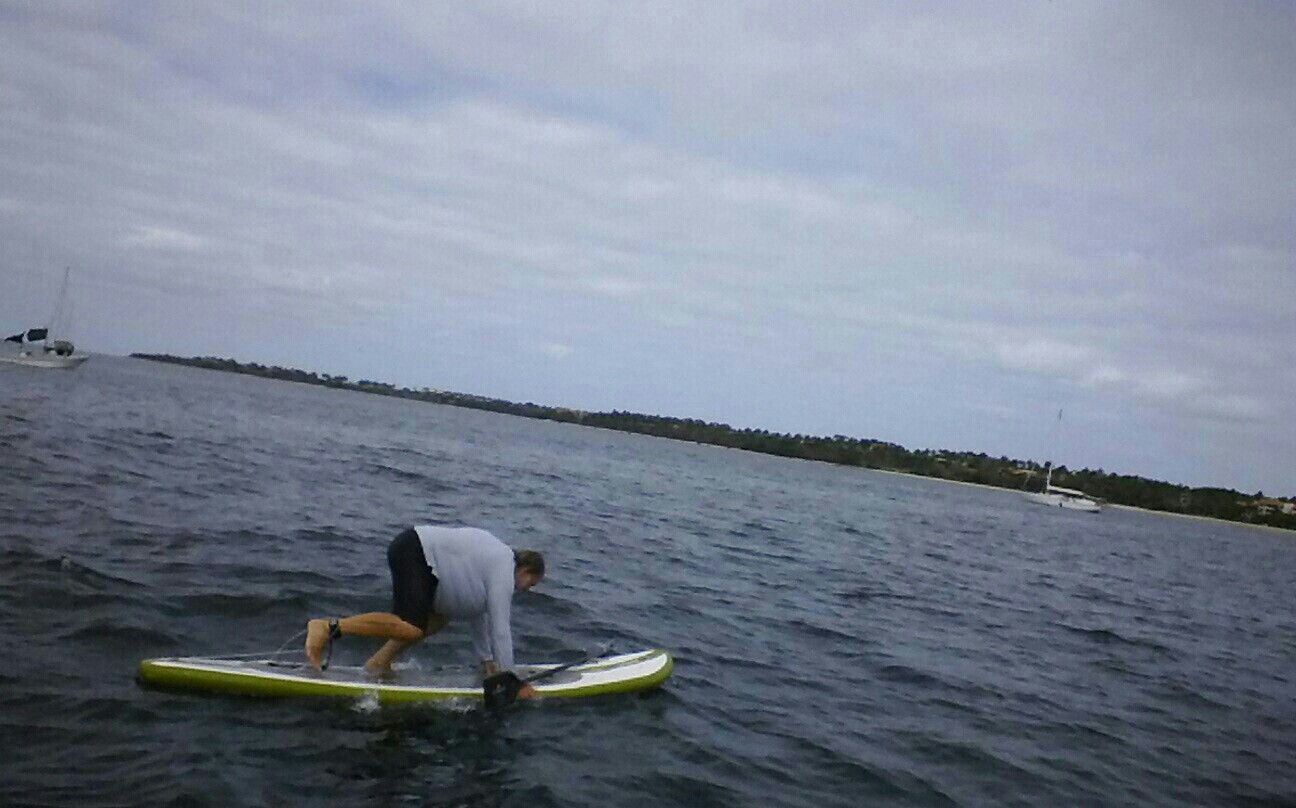 The next day I tried it out but it was too soft as I guessed at the amount of air. Plus the sea state was not great compounding the issue.
A paddle or two and down.
Climb back up and so on....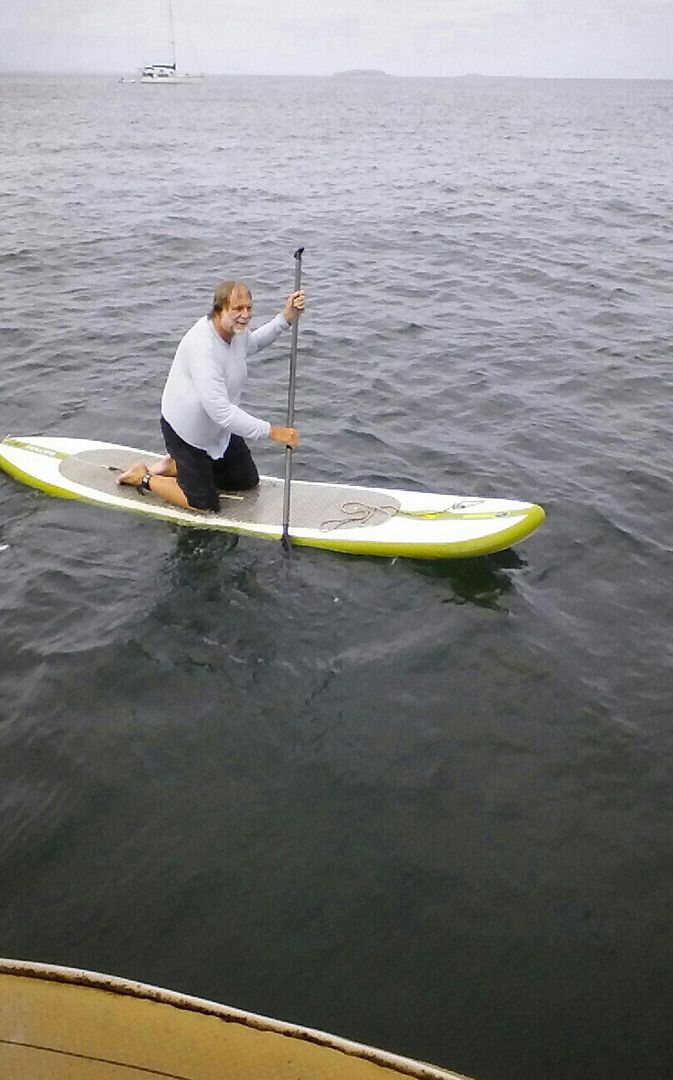 I fell off a lot. So the next day we blew it up to about eleven pounds, says to twelve max so eleven seems good with the sun and all.
The next day is on the video and did not turn out good sea state wise. I was hoping for some calm morning seas coming up.
The board is not the prettiest board on the beach but it is just what I need or wanted. The inflatable paddle boards usually go for a good chunk of change and a fiberglass one we did not want. When we are not using it for a while it would be blocking our views and air hanging on the side of our boat etc.
Ok the next day I went to go paddle boarding and the board was flat.
It leaks around the air valve. Looks like it will need a whole new air valve!
There is a shop near by or a bus ride.
They also sponsor paddle board events.
Pacificpaddle
More to be revealed!!