Beginning of April 2014 - La Cruz Anchorage Banderas Bay Mexico
The bottom was easier to clean although we only got part of it done. Banderas Bay turned lumpy making the boat start to pitch and that caused me problems under the water as I was bouncing off the bottom of the boat. We wish that California and the Sea of Cortez would keep the nasty cold front to themselves, we are getting the tail end! Of course it is not really cold, just a bit cooler but breezier and the bay is sloppier earlier in the day. It is 81 deg in the cabin and about 71 deg in the water which is cold for here. We called it a day on cleaning the bottom. Debbie got the water line cleaned and I got the new shaft zinc on and prop cleaned and some of the bottom, the keel cooler for the refer and the outside strainer for the water maker through- hull and all of the rudder and skeg.

There was not as much sea grass and so not so many critters this time. It has been two weeks since the last cleaning and we did a nice job then. There are some barnacles and I saw one sea urchins on the rudder.
For some reason I thought that only a 10' extension chord could be used from compressor to generator. Now that we know it can be up to 50' we will put the compressor in the cockpit and use it there, making the setup easier.
Old shaft zinc. This was the first time we ever replaced zinc's our selves!
Some of the tools we use to clean the bottom and water line, replace zincs etc.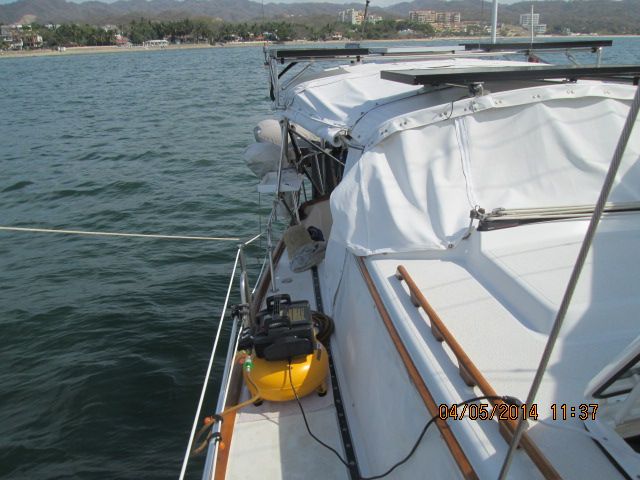 We do need more weight on the weight belt. Vallarta UnderSea has now gotten some locally made 4 lb. weights. We will pick up one or two next week. I keep bouncing off the bottom and sometimes end up upside down while scraping the or cleaning the bottom. I spend a lot of energy holding onto the suction cup to keep upright. We have I think about 12 lbs. on the belt now. Not sure as they are not marked and we have not a scale.