Middle of February 2014 - La Cruz Anchorage in Puerto Vallarta Mexico
This angle makes it difficult to climb up the ladder.
This is the boarding ladder. We decided to add a 1 1\2" PCV pipe the inside of the life lines.
We tried to extend the stand offs much longer but the 1" PVC pipe on the stand offs would start to slide under the hull by the water line. They were gangly and would un-doubtedly break off if someone stood on the boarding ladder. So we decide to bring the top of the ladder in to the side of the boat and that way we could extend the stand offs on the bottom of the boarding ladder a short distance to make the ladder vertical. Other wise the ladder is too hard to climb.
This shows the PVC pipe on the out side of the life line stanchions.
How we wanted the boarding ladder to be, vertical.
Here I have cut and fit the PVC pipe and am bolting it to the aluminum stand offs.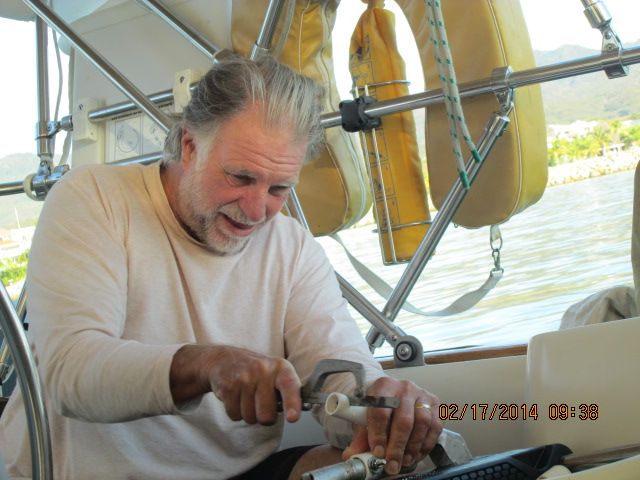 The stern one is a bit longer than the bow end to fit the hull.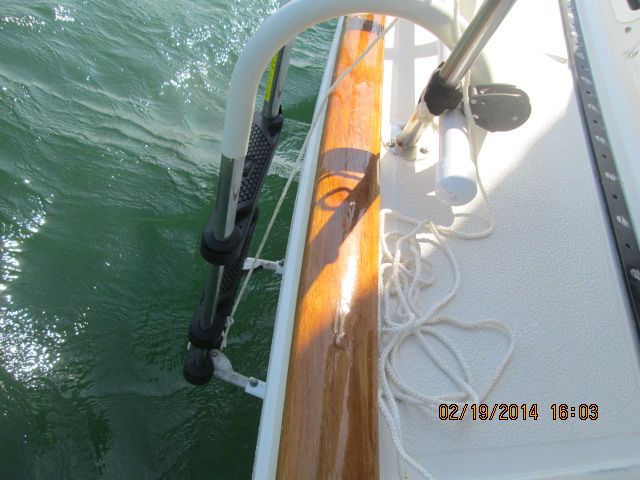 The small line was to pull the bottom step up so the sea water did not wash it constantly in the afternoon.
The afternoon fetch gets going and we did not want sea growth on the ladder. This did not work well so we just move the ladder back to the stern rail so it is up and out of the water.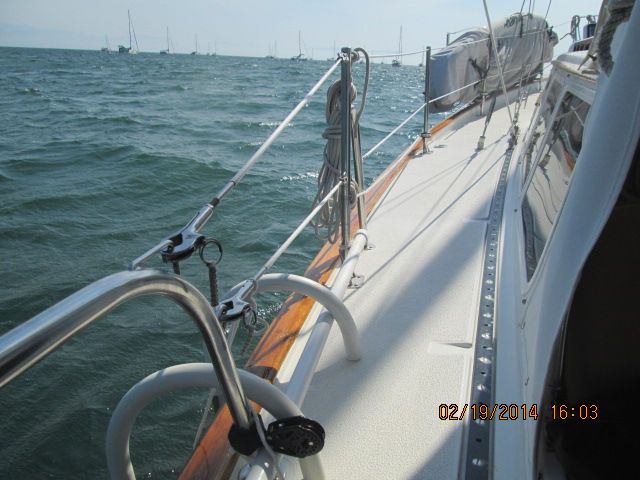 Debbie tried the boarding ladder out. She was able to climb down it and int her kayak. The after kayaking she was able to climb back up the boarding ladder and onto the deck. This givers her some great freedom.
So as we found out, a system to climb onto he boat from a kayak is really needed while cruising. Also a system to climb onto the boat while int the water. That we do not have yet. Another step, three instead of four would give us that.
The Islander Freeport stern steps are great and we use them all the time. They do not work well though if you are not using the dinghy. Our dinghy is on the davits and that keeps the steps from being used at least when the engine is on the dinghy for sever reasons which w have blogged about before. So if you have a wind vane or davits hink about another means of getting in and out of the boat. A dinghy is easy because the tubes are big and a single step can be used, along with a paddle board. But not a kayak, you are sitting on the water and need to climb up t the boat.