Sitting in PVM in PV Mexico Beginning of June 2014
We had Jack, a good mechanic here, come over and advise us on a fresh water wash-down for our Beta 38 hp diesel motor. He gave us some good suggestions which we will follow.
Doing the figuring out....
You can see the valve in there and this job has been a long time coming. We never had time to finish off some projects and this was one of them (securing this section of wiring and plumbing) before sailing south from the US.
The engine raw-water
thru-hull and valve is at the lower right.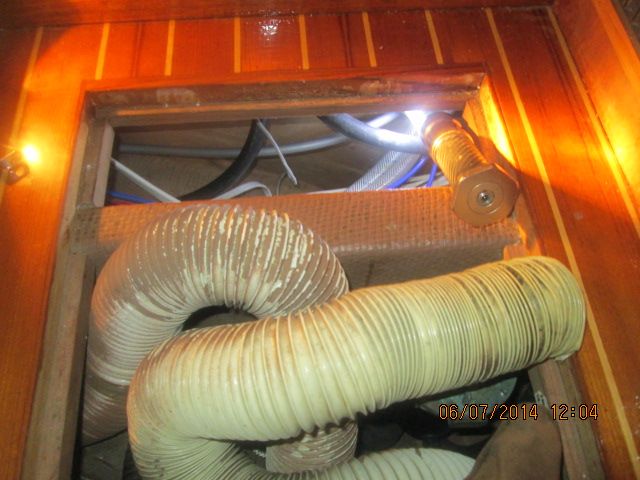 Had to pull the dorad hose out from the engine room so we could work on the broken valve.
Still a tight space but now we will not damage any of the watermaker lines
or the mast wiring or the AC wiring etc.
Now you see the broken valve. Should be enough room to get a pipe wrench on it.
We put some penetrating oil on the threads hoping this may help when
we go to remove it in a week or so.
After we replace the valve the dorad hose will get run back into the engine room.
We will be going to Opequimar Boat Yard in a couple weeks for a bottom job and we will replace this thru-hull valve and add yet another thru-hull and valve - a 3\4" one for the water maker as we think it will be a better way to have it installed.