These pumps, the Rule 2000 and the Whale IC will pump a lot of water if you have the correct through hulls and valves, elbows and hosing for the pumps.
We cleaned up the ¾ inch through hull for the Whale IC bilge pump. It had lots of pices of plumbing attached to it by the previous owner and had been reduced to about a ¼ flow. This through hull was originally used with the only and original bilge pump. In-fact we had purchased a new 1/2 inch valve to put on the through hull but realized it was a 3/4 when we took all the parts off it. That is great because that is what the Whale IC pump recommends.
After clearing off all the old parts we then installed the new through hull for the Rule 2000 bilge pump. We first marked the spot and then drilled a pilot hole. Debbie was out in the dingy as our marina has a slip only on one side. Debbie used 3M 5200 to put in the through hull and I tightened down the nut from the inside. Debbie was going to drill the hole from the dingy but the angel put the drill under water, not good for an electric drill holder :).
We installed one new 2 ¼ inch through hull for the Rule 2000 bilge pump.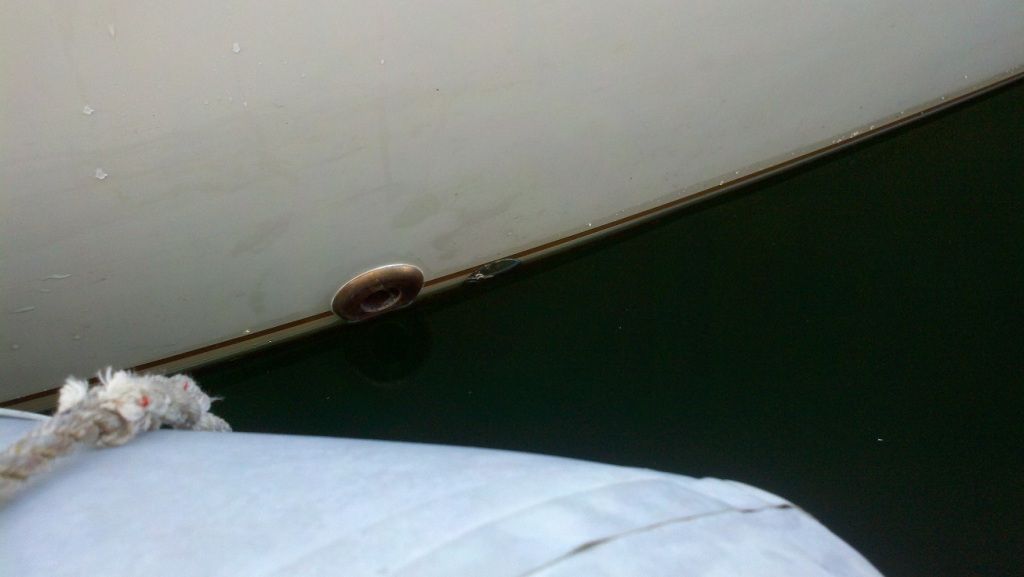 New 2 1/4 inch through hull in.
We put on the valves
temporarily
. The 3/4 one is just plumbed for one day in-case there is some need for the pump. We will put on a new valve and elbow.
The 2 1/4 inch has just the valve on it to keep any water from
coming
in. Not that it would but better safe. When the 3M 5200 sets up we will install the valve and elbow and hosing.
We could have put it up higher but this will do.