Our usual routine upon waking is to open the companion way while boiling the water for our French-press coffee.

As Debbie did this, she noticed a little green head poking out of the stern entry for the chain that goes to the rear anchor windlass.

Knowing that our boat neighbors Kelly and John (upon The Emerald Lady – the Chouy Lee 47) had been commenting that they have found at least six baby iguanas in the last couple of weeks, she figured this was one such lizard.

We have had a couple of the baby iguanas ourselves, mostly on top of the bimini, which we have been able to capture in a shirt to take them off the boat.

We couldn't grab them by the tail because their tail would break off!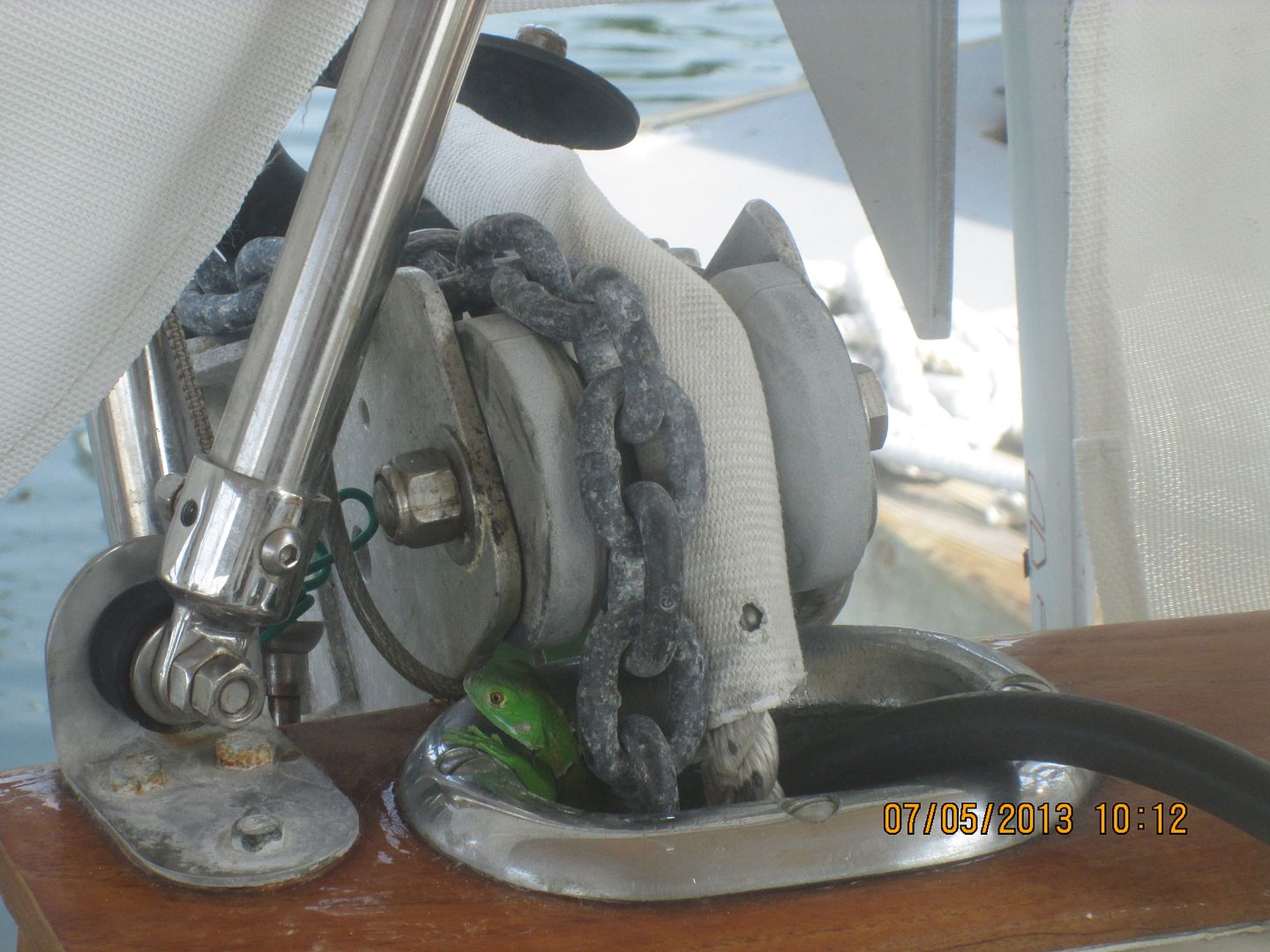 Debbie pondered the situation and came up with a plan to lure the baby iguana out of the chain port.

She tore up a small piece of lettuce and placed it on a paper towel – couldn't have it directly on the beautiful new Cetoled cap rail!!

This went on the outer edge of the cap rail, figuring that the baby iguana would smell the lettuce and go out to investigate.

Sure enough, this was the case.
Granted, it wasn't at lightning speed – little by little the baby iguana crept out to check out the lettuce.

Once he (?) figured it was "safe", he proceeded to snack on the lettuce.
At this point, we covered the hole so he couldn't re-enter his hiding place.

Then we figured we could get him off the boat – but this was no easy task.

Sure enough, he raced (yes, this time he moved fast!!) toward where he came from but since that was blocked off, he went down the chain.

This time we were able to trap him in a yellow rag and put him off the boat onto the dock.
A little while later, we noticed he was climbing the dock line to get back onto the boat.

Once again we moved him further away down the dock.

He ran and jumped in the water….who knew iguanas could swim!!

Now we need to figure out a way to block the dock line – perhaps with a modified empty bleach bottle.
Postscript:

Not only did we put canvas in that rear chain port, we also put some screening fabric in the two dorades holes and the front anchor windlass chain port in the anchor locker so no other baby iguanas can get in!
And just today, we found another one in the rear lazarette where we keep the wet vac.

He was sitting in the base – must have been caught in there once we plugged all the outlets.

Luckily he was still alive so we moved him out.
Chip the Iguana Wrangler and Debbie the Iguana Whisperer!